The Crew Of Hellbilly Hotrods
Michael Crawford
I started building stuff at 14 under the tutalege of my father. he taught me everything he knew. back then, it was necessity, and repair. After a while, i kept learning from anyone who would teach, and do to this day. nowadays, i teach dad some things, but i still owe it all to him. without him, i wouldnt have had the basics to begin on. I'm a bit more than obsessive when it comes to build quality and details. i believe that any car should be well engineered, better executed, clean and neat. doesnt matter what it is. jsut look at some of the most recent work to see the stuff im talking about. i try to top myself in everything i do.
Dustin Pressley
Dustin has recently started working with me. He is an accomplished builder in his own right, with many mini trucks and muscle cars under his belt. He has known me since the late 90's, and has always been a very focused, dependable, and detail oriented man. Dustin works side by side with me on larger, time sensitive projects.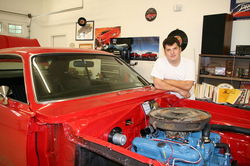 The History of Hellbilly
While I was in college, I was broke. We're talking Ramen-Noodle three meals a day for a month broke. But I was still building my hotrod, my roomates truck, and doing odd repair jobs for friends. One morning I got the bright idea to charge some coin before the lights got turned off again. So I hung a a make shift sign out of a shingle outside my garage, and the whole thing started.